Why Bagpiping Chicago for Wedding
A wedding is a time of joy and celebration. Bagpiping Chicago music will grace your wedding ceremony and/or reception with that special touch.
Weddings are a great deal of planning. With Bagpiping Chicago, we are professionals who will fit smoothly into the bride's and groom's special day.
J. Kevin Chapman is Bagpiping Chicago. He has played the bagpipes at hundreds of weddings and other special events. He's reliable, trustworthy, and plays quality wedding tunes on the bagpipes. What's more, he strives to exceed expectations.
As Bagpiping Chicago, Kevin is reliable and trustworthy. Additionally, Kevin will go the extra mile. Kevin will touch base with the pianist or organist, DJ or Band to coordinate events. Wedding days can be chaotic. We work with you to fulfill your dreams and add to the celebration.
Moreover, if you're looking for an entire bagpiping band for your wedding reception, we can arrange that, too.
Upcoming Weddings:
September 18th 2021 Wedding -Private affair
May 8th – Private Affair
Wedding Tunes We Play
We can play a variety of tunes. Have a particular bagpiping tune that you're looking for? Just ask us. Some popular wedding tunes are:
Mairi's Wedding
Highland Cathedral
Murdo's Wedding
Dawning of the Day
Scotland the Brave
Balmoral
Wearing of the Green
Great Wedding for the Memorial Day weekend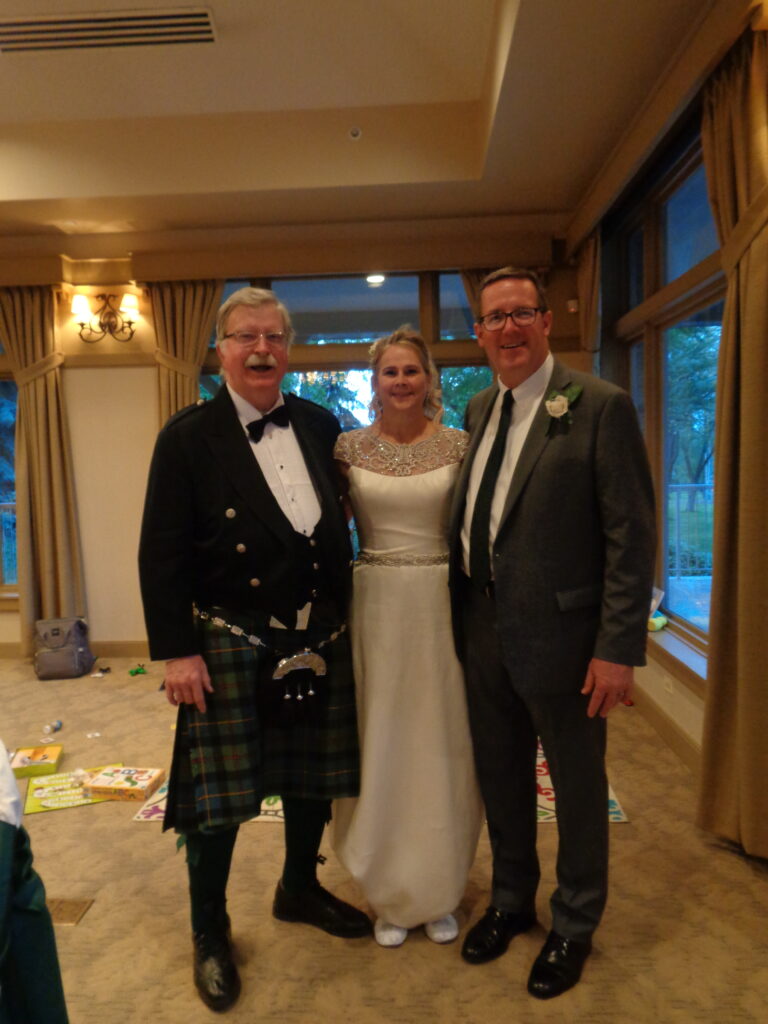 Bagpiper for Wedding FAQs
Q. Can bagpiping be a surprise at the wedding?
A. Yes, we often surprise a bride or groom, or the guests. But PLEASE let us know in advance. We wear the full bagpiping regalia. A man loitering in the back of a church or reception who is wearing a kilt and carrying a set of bagpipes tends to dispel the element of surprise. 😉 Give Bagpiping Chicago a heads up, and we can work with your plans.
Q. Can you provide a full bagpiping band for a wedding?
A. Yes, with advanced scheduling, we can usually bring a bagpipe band to your reception.
Q. What do you charge?
A. That depends what you want and how many hours are involved. Do you want an entrance song? A recessional hymn? Do you want an entire bagpiping band at your reception? Let's talk.
BOOK NOW
CONTACT US
Phone: (847) 778-6743